Neway, China's largest and world-renowned industrial valve manufacturer, always commits to providing customers with complete solutions for industrial valves. They specialize in the industrial valve's production, research and development, sales and service. After more than ten years of effort, Neway creates its own, unique valve aircraft carrier.

Neway based on China to implement its global strategy. In China, they have 2 major production bases, 3 professional casting plants and R & D centers. Their sales outlets spread over throughout all major cities. For overseas market, Neway set up several sales branches and production plants, and establish long term strategic partnership with nearly 80 agents to meet the growing market demand. Their product includes globe valve, check valve, ball valve, butterfly valve, safety valves, nuclear valves, wellhead equipment and a variety of special valves which are widely used in oil and gas, chemical, power, shipbuilding, mining, water treatment and industrial systems.

Neway, the world biggest Shell Valve Supplier, with the largest TAT cover range products worldwide, meet the highest quality requirements as stipulated in ISO9001, ISO14001 guidelines plus our stringent quality control system.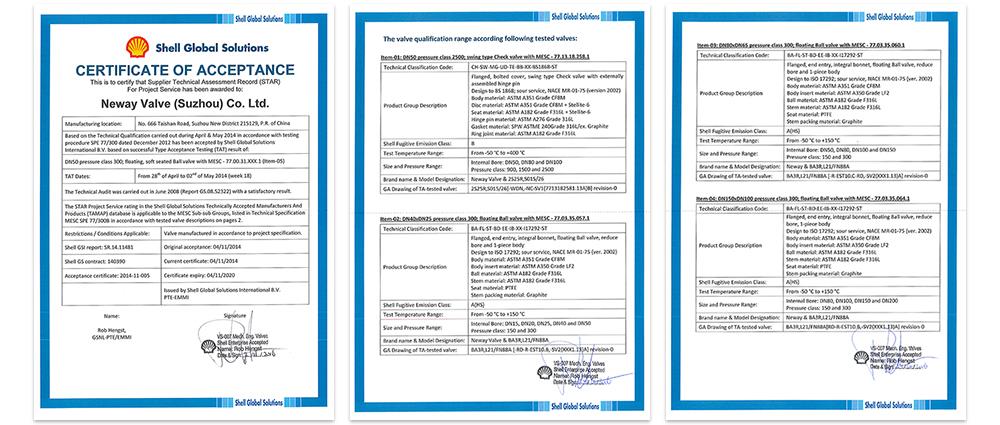 Besides, Neway has a full range of qualifications to prove their high-quality products, such as API series (API600, API602, API6D, API594) certificates, ATEX cert. CE-PED cert. CU-TR cert. ABS MA/BV MODEL II cert. Fire-safe test cert. SIL cert. etc.